Details

Written by

Kevin Horton

Hits: 2789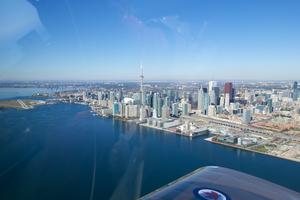 The weather on Sunday was wonderful, and we took full advantage by flying to Toronto for lunch. Toronto City Centre Airport is on an island close to the CN Tower, right next to downtown Toronto. It is the main hub for Porter Airlines, and is a great way to get to downtown Toronto.
Here you see downtown Toronto, the CN Tower, and the airport as we approach from the west.
Details

Written by

Kevin Horton

Hits: 4301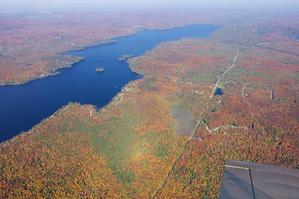 The weather this weekend was spectacular, and this time of the year you never know if this is the last weekend like it. We went out to eat Saturday evening, sitting outside in the setting sun.
Sunday, we flew to Sherbrooke, Quebec, to meet friends for lunch at the airport restaurant, sitting outside. The trees are just starting to turn colour here, but the elevation in the Sherbrooke area is about 500 ft higher than around Ottawa, and that apparently makes a big difference. The trees are pretty much at peak fall colour in that area.
Details

Written by

Kevin Horton

Hits: 4638
While at Oshkosh, shortly after we landed, a golf cart with EAA Press folks rolled up. They aircraft had caught their eye as we were taxiing in, and they asked if I'd be interested in doing an air-to-air photo flight sometime during the week. I quickly agreed, and we did that flight a few days later.
The photo guys were flying morning and afternoon every day, with several subject aircraft each time, and they took 500 to 1000 shots of each aircraft. I knew it would take them quite a while to sort through all the shots, so I wasn't surprised when it took almost two months before I saw the first results of this flight.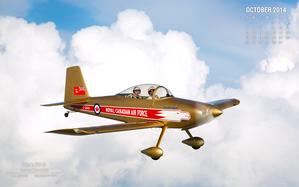 Today an alert RV–4 owner alerted me to the October 2014 EAA Desktop Wallpaper, which was a beautiful shot of our RV–8.
Other sizes can be downloaded for the next few weeks from the EAA site.
Details

Written by

Kevin Horton

Hits: 2536
Today was the first flight since getting back from Yarmouth. It was just a short flight to warm the oil, so I could change the oil and filter. After the oil change, I inspected the exhaust system for cracks. I'll finish the inspection ahead of the firewall before the next flight.
Details

Written by

Kevin Horton

Hits: 2661
Terry and I had a great trip to Yarmouth, NS to visit my folks, brother and sister over the Labour Day long weekend. My sister lives in Yarmouth, but my brother lives NW of Toronto, so it is a rare occasion when we are all in the same place.
We flew down on Friday, stopping in Sherbrooke, Quebec for lunch. We could have done the trip to Yarmouth nonstop, but I was concerned about the high surface winds in the wake of Hurricane Cristobal. It had passed by well south of Nova Scotia, and was currently off the east coast of Newfoundland. It was producing wind gusts well over 20 kt at Yarmouth, and the wind direction was forecast to stay almost exactly between the two runways. The winds at Halifax had gone to over 30 kt. I was concerned about the possibility that the crosswinds when we would arrive might be higher than I was prepared to risk during an aft CG landing. It looked like I might have to divert to northern New Brunswick to find lower winds, so a fuel stop on Sherbrooke ensured that we would have lots of diversion fuel upon arrival in Yarmouth. As it turned out, the winds upon arrival had veered a bit, and while the gusts were still over 20 kt, the wind direction was only 20° left of the runway heading. No problem.
Details

Written by

Kevin Horton

Hits: 3057
The weather today was pretty much perfect, except for a bit of haze, so Terry and I decided to head up to Killarney (CPT2) for fish and chips. killarney is a small town on the north shore of Georgian Bay, which is at the top of Lake Huron. Herbert Fisheries has a commercial fishery there, and some of the whitefish and perch supply their fish and chips stand. The Herbert Fisheries fish is acclaimed far and wide as the best fish and chips in Ontario. The fish and chips stand in a converted school bus was removed at the end of the 2013 season, and it will be replaced by a new restaurant, which is still under construction. In the interim, there is a temporary fish and chips stand in an Atco trailer.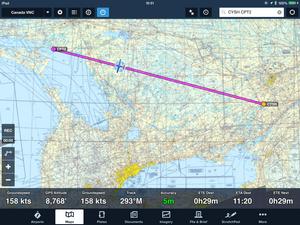 Killarney is 242 nm from Smiths Falls, which is a 1:35 flight at our typical cruise 160 kt speed. We landed about 1120, then walked into town (roughly a 25 minute walk).