Details

Written by

Kevin Horton

Hits: 2738
If you noticed that the site looks completely different, it is because it is now being served by Joomla, instead of Geeklog. Geeklog was the right choice in 2002, when I started using it, but it has long since been surpassed by several other Content Management Systems, and it sadly seems to have lost many maintainers, with only a skeleton staff still there, trying to keep the lights on.
I considered WordPress, but was somewhat put off by the apparent regular security issues. Then I looked at Drupal, largely because it has an excellent reputation for security, but I found it required more expert knowledge to set up than I was willing to acquire. Joomla seems like a good compromise. Possibly more secure than Wordpress, but much easier to set up and maintain than Drupal.
I've still got quite a bit of work to do to sort out all the final odds and ends. The look of the site needs some more work. I need to chase down any links still pointing to content on the Geeklog version of the site, and redirect them to the equivalent pages on the new site.
User IDs and Passwords - I moved the user IDs over, but there was no way to bring the passwords, so all registered users will have to go through the "I forgot my password procedure". The old site had accumulated many thousands of users who had only registered to attempt to add spam comments. The site security generally stopped the spam, but it didn't stop them from creating accounts. I purged any suspicious accounts when I moved to the new site, and I may have accidently deleted a few legimiate accounts by mistake - let me know if the site is not recognizing your old login ID, and I can manually insert the user data from the old site. You can contact me via the Contact Page.
Let me know about issues - I'm sure there will be a fair share of hiccups after this switch to Joomla - please inform me of any issues you discover and I'll endeavoour to sort them out. You can contact me via the Contact Page.
Details

Written by

Kevin Horton

Hits: 2979
Terry and got back late Saturday night from a week's vacation in Daytona Beach. We had a place right on the beach, and went for a wonderful long walk every day except the last one, when the weather had deteriorated. The weather in Ottawa had been very cold - it was the coldest February ever recorded We missed what we hope was the last big snow storm of the year while we were basking in the wonderful warm Florida weather. The weather in Ottawa was much warmer upon our return, and today it hit +8°C (47°F) - yesterday and today were the first days with high temperatures above freezing since 23 January 2015. I'm ready for spring!
Details

Written by

Kevin Horton

Hits: 3273
Saturday was cold, but still the warmest day we'd had for awhile, so I trekked out to the hangar to install the new battery.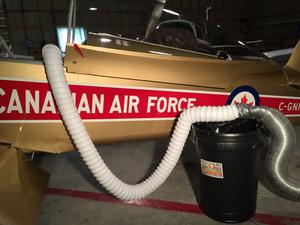 Normally, when working in the cold, I use two electric radiant heaters to keep me warm. But, they would be useless when kneeled over in the aft baggage area, to remove and install the battery. I used a length of flexible plastic dryer duct to direct air from the 4800W engine preheater to the baggage area. It worked quite well.
The battery replacement went well. Normally the tricky part is reinstalling the aft baggage floor and back wall, but I got lucky this time and every screw lined up, and no screws escaped into the rear fuselage (which would mean I would have to take everything part to track them down).
---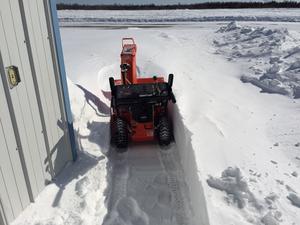 Monday was clear, so I took some time off in the afternoon to get the aircraft flying. The first order of business was clearing the snow from Sunday's storm. There was a four foot high snow drift at the corner of the hangar, and 18 inches of snow on the pavement between the hangar and the taxiway. I know we didn't get 18 inches of snow from that storm, but the strong winds dumped it all in front of the hangar.
---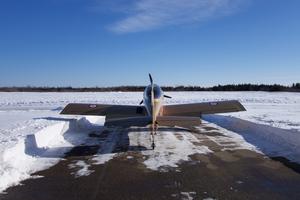 There isn't a lot of clearance between the left wing and the snow bank on that side hopefully we won't get too much more snow, or I'll have to do some snow bank surgery.
Details

Written by

Kevin Horton

Hits: 3169
The new battery I ordered arrived this week.
I was in Wichita all week, doing some Global Express flight testing. It was strange to be in a land without snow.
The weather this weekend was fairly cold, so I didn't go out to the hangar to install the new battery. I've got two electric radiant heaters that do a pretty good job of keeping me warm while I work, as long as I stand right in front of them. But, they wouldn't be much use if I was kneeled over in the rear baggage bay, replacing the battery.
Hopefully next weekend will be warmer. If not, I'll cobble together some sort of extended air duct off the big electric heater I use to preheat the engine. Perhaps that could get enough warm air in the baggage area to keep it habitable.
Details

Written by

Kevin Horton

Hits: 6888
I was on the road all week, for three days of meetings in Long Beach, CA. It was quite a let down to come back to cold and snow Friday night.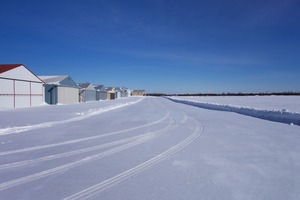 I went out to the airport this afternoon to clear the snow from in front of the hangar and get a short flight off. But, despite a lengthy preheat, the engine did not crank strongly, and I never got it started before the battery expired. I fear that I have once again been afflicted by the recent woes that have caused many RV owners with Odyssey batteries to complain. The older Odysseys had a very good service record, with most users getting many good years of service. The newer ones seem to work for a year or so, then suddenly lose most of their capacity.
I don't have time now to research other options, so I've ordered another Odyssey, which should arrive this week. I'll look into other batteries that are physically compatible, and have good reviews, in case this happens again.
Details

Written by

Kevin Horton

Hits: 3411
I was scheduled to be on standby all day Saturday, which meant I would need to stick close to home. The weather was quite nice on Friday, so I took that day off to do the things I wouldn't be able to do while on standby, such as go to the airport.
I had a great IFR practice flight in the RV–8 in the morning, then made more progress on the annual inspection. I found a couple of loose fasteners, and the tail navigation light is unserviceable. I only require that light if I'm night flying, which I avoid like the plague, given the difficulty of executing a successful forced landing at night, so I'll defer sorting out that nav light until the weather is warmer. Hopefully it is just a burned out light bulb.