Details

Written by

Kevin Horton

Hits: 2857
We took Porter Airlines to Halifax, NS, then rented a car and drove to Yarmouth, NS for a week over Christmas. It was great to see my parents and sister again.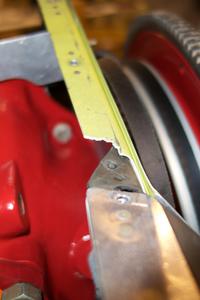 Just before leaving for Yarmouth, I started the annual inspection on the aircraft, starting ahead of the firewall. I found a cracked flange that supports the plenum chamber top on the right side at the cowl air inlet. The left side had the same failure a couple of years ago. I reinforced that area on the left side when I repaired it, but I didn't make any changes on the right side, as I couldn't get good enough access to do the work in situ, and it is a pain to remove the parts. I rolled the dice that the right side would be OK, and I lost that bet.
Details

Written by

Kevin Horton

Hits: 2632
The web site has moved to yet another web host, Arvixe. I had been on the same host since the web site was created in 1997, but that host had become unreliable. In retrospect, I didn't do as much research as I should have before moving to the second host, and that host quickly proved unsuitable. Arvixe seems to be the best host yet - hopefully they'll stand the test of time.
Details

Written by

Kevin Horton

Hits: 2764
Winter definitely arrived last week, with several days of snow, with roughly 20 cm of total snow fall. I headed out to the hangar Saturday AM to get the snow blower going and clear the snow. I had started it about three weeks ago, to make sure that it had survived its summer of hibernation - that first start was a definite struggle, so I wasn't sure what to expect this time. I got lucky - it started right up. It took about an hour to blow the snow off the entry to the hangar, chip a few big ice ridges from where the airport snow plow had turned around, and clean up with a shovel.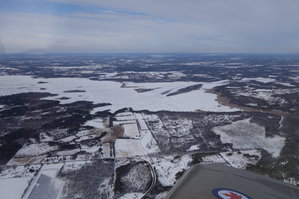 The ceiling was low when I arrived at the airport, but it had cleared out nicely by the time I was done clearing snow, so I rewarded myself by going flying.
Many of the lakes have frozen over, but the ice is still way too thin for any intrepid ice fishermen to set up camp.
Details

Written by

Kevin Horton

Hits: 2206
We had a nice sunny day today, so I went flying. Last time I flew, I did some stall speed testing, using an experimental four leg GPS method, and I was puzzled that the results were about 3.5 kt different from the earlier testing I had done using the same method. After thinking about it a bit, I realized that I had possibly done the stalls with the mixture set differently than from the earlier flight, and that this might possibly have resulted in a different idle speed, and a different effect from prop discing drag. I wanted to investigate this today.
Details

Written by

Kevin Horton

Hits: 2247
I had day off on Friday, and took advantage by doing a firewall forward inspection and then a short flight. I finally had weather that allowed me to climb high enough to gather some more stall speed data using a four leg GPS method. The results from this flight is a real puzzle when compared to the previous test a few flights ago.
The two test points (four legs each) looked to be excellent quality, with extremely low standard deviation of the four calculations from each test point (0.2 kt and 0.0 kt for the two test points). The two test points gave similar speeds, with only 0.1 kt difference between the two points.
Details

Written by

Kevin Horton

Hits: 1966
If you are reading this, the move to the new web host worked. I made the move a couple of days ago, but had a few hiccups to sort out.  It seemed to work OK during my testing before switching the domain from the old host to the new one, but changing the site from an IP address to a domain two days ago somehow fouled up the fragile balance in the forces of the web, and the site stopped working correctly.  I finally found the Rescue function in Geeklog, and it immediately pointed out the problem - it was an easy fix once I knew what was screwed up.
There is a risk of issues with user log in, especially with the Safari browser. It was screwed up earlier, but it looks to be working now.  However, I'm far from certain that I've seen the last of this problem. I did a clean up of the user list, as the old site had collected many tens of thousands of users who had registered in the hope of creating comment spam.  There is a chance that I may have deleted a few valid accounts in that clean up.  If anyone finds that they cannot log in, please inform me - I have a backup copy of the old user info, and I should be able to manually copy it back.
The file downloads that were on the old site aren't up and runnign on the new one yet.  That will be be coming soon.  Same thing with the image galleries.