Details

Written by

Kevin Horton

Hits: 2788
I talked to Aerosport Power on Friday about my engine issue. They gave me three different quotes to get me a healthy engine again:
repair the engine, with the original configuration tappet and cam
repair the engine, modify it for roller tappets and cam,
trade the engine in on a new engine with roller tappets and cam.
Option 3 is much, much more expensive than options 1 & 2. The difference in cost between options 1 & 2 is small enough that it seems like the best plan is to convert the engine to the roller tappets and cam.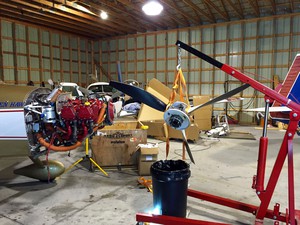 I spent most of the weekend at the hangar, removing all the things connecting the engine to the airframe, like peeling an onion, layer by layer.
---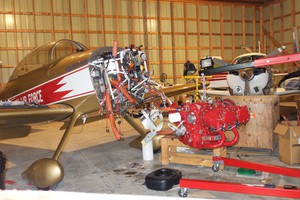 Finally, late Sunday afternoon, I was able to pluck the engine free. I need a bit more time to remove some of the accessories on the back of the engine, then I'll put it in the crate and send it on its way to Kamloops.
Details

Written by

Kevin Horton

Hits: 2696
Today was warmer than the past few days, and I had a slow afternoon at work, so I took some time off and headed to the hangar. I warmed the wrist pin bosses in the piston with a heat gun, then managed to push out the wrist pin with a piece of wooden dowel. Then I stuck my borescope inside and took a look.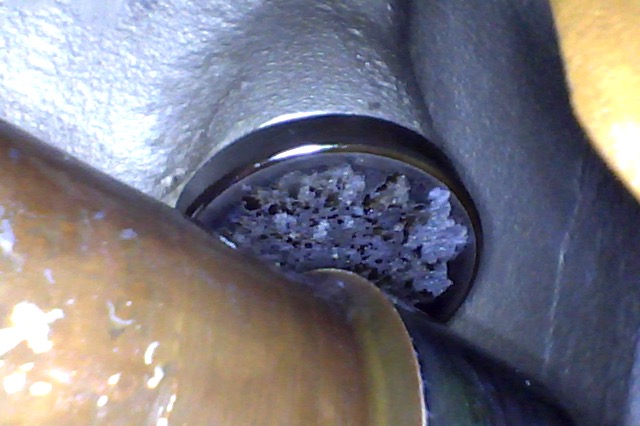 The #4 intake tappet looks pretty ugly. Drat. I managed to get the tip of a finger on the tappet by rotating the crank a bit, and it feels slightly rough, which confirms the borescope image.
---
I won't print what I said. I've been resigned to finding valve train issues since I first found metal in the oil, but I had been holding out hope that there was a cheaper explanation. At least now I know what the issue is, and what I need to do to get it sorted out.
I'll start pulling the engine on Sunday, and then figure out where I will send it. This is the second time in 3 years with cam or tappet issues, so I'll get the roller lifter mod done this time.
Details

Written by

Kevin Horton

Hits: 2432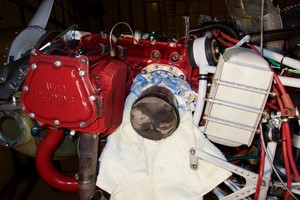 I finished removing all the stuff around the #4 cylinder yesterday, and today Lee, a coworker, helped me remove the cylinder. It came off quite easily, then we could look inside and also inspect the piston.(
---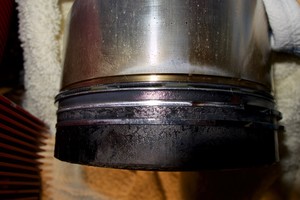 The piston has a stuck #2 compression ring, and signs of significant blow by. I'll discuss the cylinder and piston condition with an overhaul shop to determine what I need to do.
---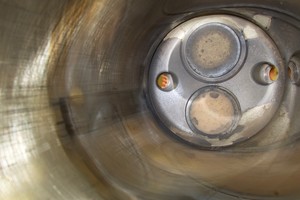 The wide, worn area on the cylinder wall that was observed in the borescope was quite noticeable with the naked eye. But it was not very deep, only on the order of 0.001", or so. The transition between the worn and unworn areas is very smooth. I do not believe that this small amount of wear explains the metal found in the oil filter. Drat :(
---
Meanwhile, I still need to figure out where the metal in the oil is coming from. The next step is to inspect the cam shaft. I had thought it was necessary to remove cylinders to allow the pushrods and hydraulic tappets to be removed, allowing the cam lobes to be seen. But today, following the cylinder removal steps from the Lycoming Overhaul Manual, I noted that one should be able to inspect the cam without removing cylinders, by removing the valve rockers, pulling out the pushrods, removing the pushrod tubes, then pulling out the tappets. But, there is some sort of magic trick to pulling out the tappets. The overhaul manual describes how to do it, but we were not successful today. I need to get an Aircraft Maintenance Engineer over to help me out.
Details

Written by

Kevin Horton

Hits: 2417
The IO–360-A1B6 engine in our RV–8 has been making some metal. I first noted it when inspecting the oil filter after an oil change in August - I found roughly 50 shiny, ferrous flakes. I consulted Lycoming SI–1492D, which describes various types and amounts of metal one might find in an oil filter, and recommends action. Based on that recommendation, and after consulting with three Aircraft Maintenance Engineers (an AME is the Canadian equivalent to an FAA A&P), I flew the aircraft for two hours and checked the filter again. I counted 7 flakes, so I flew 10 more hours (I was away for most of the rest of the year, so this took until January). This time I found the rate of making metal had gone up quite a bit, and now I was seeing what looked like aluminum along with the steel, so I grounded the aircraft.
When I first found the engine was making metal, I feared it could be the cam. After finding aluminum too, I did some research, which lead me to wonder if it could be a broken piston ring.
I acquired a Vividia VA–400 borescope, and today I took a look in the cylinders.
Three cylinders looked pretty good, but #4 has a very strange, wide area where the cross hatching is not visible. This area goes all the way up the cylinder.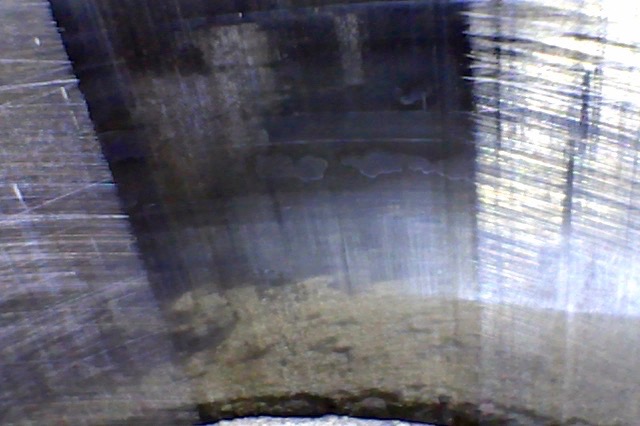 ---
At first I thought it might be a piston pin issue, but I'm pretty sure it is no where near the front or back of the cylinder (you can see the top plug hole, with borescope shaft through it, in the second photo). The next step is to find an AME to help me pull that cylinder to investigate.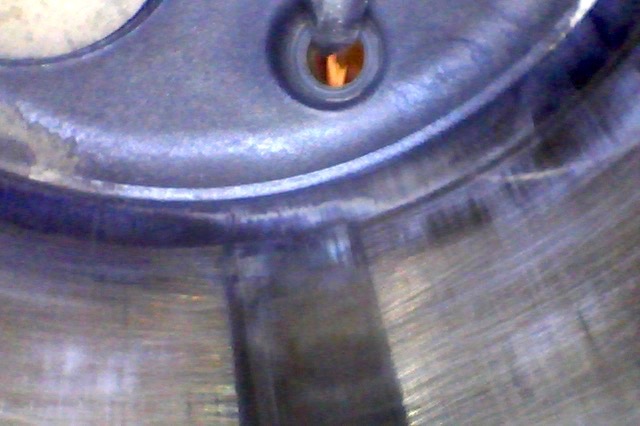 Details

Written by

Kevin Horton

Hits: 2641
It's been a crazy three months. CSeries flight testing had me in Wichita almost continously from 21 Sept 2015 until 14 Nov, then home for a weekend, then a week in Montreal for testing in a simulator. The travel finally wrapped up three weeks ago, but I've been working long hours since then dealing with all the reviews to finish off the type certification approval program.
I got flying last weekend, and did some more Stratux ADS-B receiver testing, this time with all the bits packaged together into one glob, using plastic tie wraps to hold it all together. The two antennae bases were tie wrapped to the rest of the assembly. I climbed up as high as 9500 ft, but didn't pick up a single tower. I concluded that the antennae needed a ground plane to work properly.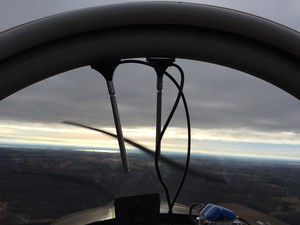 Yesterday morning I tried again, this time with the magnetic antennae bases stuck on the steel canopy bow. This wouldn't be a good place to have them permanently mounted, but it provided a quick way to provide a ground plane. I also tried with them sitting upright on top of the glareshield, but the magnetic bases are useless on aluminum, and they frequently fell over.
---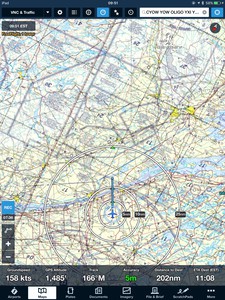 I was amazed to find that I was picking up one ADS-B ground station at low altitude shortly after take-off. I was picking up a station about 65 nm away at 1000 ft above ground! The station was lost as I climbed through about 1500 ft above ground, and reappeared as I descended through about 1200 ft. I repeated the climb and descent three times, and every time the station was picked up at low altitude, but lost when I climbed to 1400 ft AGL. This looks like a classical case of radio ducting, where a significant temperature inversion causes radio waves to bounce between ground and the top of the inversion in a narrow channel - this allows the radio signal to be picked up at low altitude when the transmitter should be well below the horizon.
---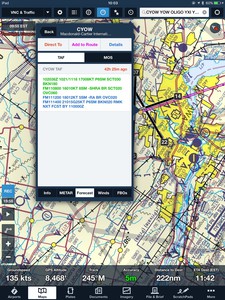 I climbed up to 8500 ft, picking up the station again as I passed through 5000 ft. I then waited until I had received quite a few weather reports, then checked to see what Canadian weather data was received. I found that the ADS-B stream contained weather forecasts for some major Canadian airports, but the data was over 24 hours old. No Canadian airport weather reports were seen. I have concluded that the US ADS-B data, while potentially very useful for flights in the US, is essentially useless for flights in Canada. I will continue to subscribe to XM Weather, despite the $60/month price tag.
Details

Written by

Kevin Horton

Hits: 3979
I got back yesterday afternoon from three weeks in Wichita, doing CSeries flight testing.
While I was in Wichita, I bought the parts to cobble together a cheap open-source ADS-B In receiver (part 2), based on a Raspberry Pi computer and two software defined radios. ADS-B In is widely used in the US to transmit weather info and traffic to suitably equipped aircraft. It would be quite useful when flying in US airspace, and possibly useful when in Canadian airspace (see ADS-B Primer).
Today I took the ADS-B receiver flying, to see how it worked. The receiver I assembled emulates the popular Appareo Stratus ADS-B receiver, so it is compatible with any device that can receive signals from such a receiver. I used ForeFlight on my iPad mini to receive and display the data.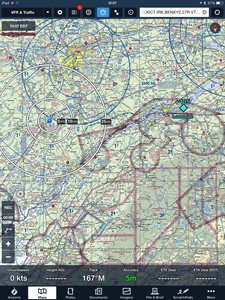 It was receiving transmissions from high flying aircraft on 1090 MHz when I fired it up on the ground. The cyan diamond represents the aircraft that was being received, and "+405" above the diamond means the aircraft was 40,500 ft higher than my aircraft, or 41,000 ft above sea level (Smiths Falls is just over 400 ft elevation).
---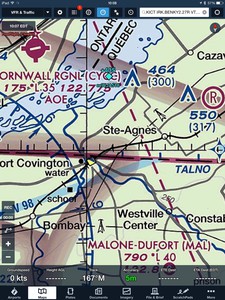 I zoomed in on the traffic awhile later, and saw the call sign below the diamond ("WJA518", or West Jet 518).
---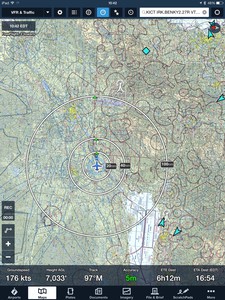 Level at 7500 ft, I was picking up signals from two ground stations. The ground station locations are shown the map with a while tower symbol.
---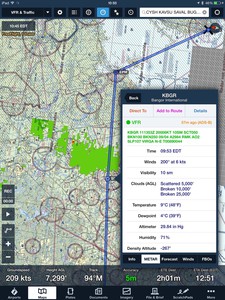 The system had local and national radar and weather reports and forecasts for US airports.
---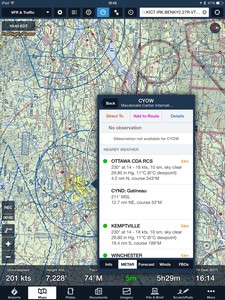 There wasn't any data for Canadian airports, but there were weather reports for numerous non-aviation reporting stations in Canada.
I had tested the system in Kansas, using the ground station at Newton, and it was receiving forecasts for Canadian airports. I'm not sure what the transmission interval is for the various data types. Maybe the Canadian forecast data would have arrived if I waited longer. In any event, airport weather reports are much more important than weather forecasts, and I saw no sign of those on either of these two tests.
If I was only flying in the US, it would be a no-brainer to stop spending $60/month on XM, but ADS-B probably isn't good enough to replace XM in Canada, as it has no Canadian radar data, and precious little other weather data. I'll use both ADS-B and XM Weather next summer, and then decide if ADS-B is good enough to stop subscribing to XM.