It's been a busy two weeks. A week ago Tuesday I flew to Phoenix, for two days of Global Express flight testing. Friday we ferried the test aircraft back to Wichita, and did more flight testing on Saturday and Tuesday. Wednesday I flew home. Thursday was a day in the office, always a bit of a let down after the hustle and bustle of flight testing. Yesterday I spent the day doing proficiency flying on a Transport Canada Cessna Citation.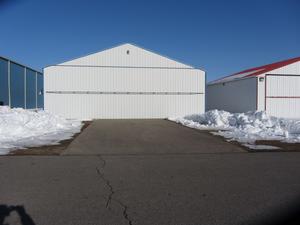 This morning I headed out to Smiths Falls to fly the RV–8. I was overjoyed to find that someone had plowed the snow that arrived while I was gone from in front of the hangar. Terry says we got a foot of snow at home while I was away, and it looks like Smiths Falls probably got even more than Ottawa did. Judging by the height of the snow banks it would have been a huge job if I had to move it myself. Thanks, Mr. Mystery Snow Plow Guy :)

---
Today I while flying I experimented some more with the iPad Mini mounting solution. I was trialling it mounted on the left side of the cockpit, but I found that it overly hindered access to the frequency tuning knobs on the GNS430W. Today I tried it on the right side of the cockpit, using the RAM ball that I was using for my Garmin Aera 510 XM weather receiver. I put the Aera over on the left side, using the RAM ball that I had installed for the iPad Mini. I found that this worked much better. The iPad didn't block the view or access of anything important. The Aera is much smaller than the iPad Mini, so I could put it a bit higher, and there was still good access to the GNS430W.
But, glare is still an issue. I had added a Targus Screen Protector iPad Mini AWV1246US, as it was recommended by several users on the VAF Forums. Without the screen protector there is objectionable glare from a wide range of iPad angles. The screen protector helps, in that there is a much smaller range of angles where the glare is problematic. But, I still find the screen dim if I am wearing my sunglasses on a bright sunny day. I was using my original larger iPad on a kneeboard on my thigh, and had no issues with glare or brightness. If I put the iPad Mini on my thigh the problem goes away. It looks like I need to buy an iPad Mini kneeboard. I didn't buy one originally as I couldn't find any that I liked. MyGoFlight, the company whose kneeboard I use with the original iPad, has just announced that they will release iPad Mini kneeboards at Sun n Fun. I'll likely buy one if I make it down there.