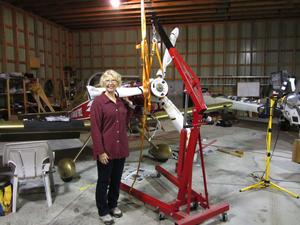 Terry helped me install the prop this morning. I used a nylon cargo strap to make a sling, and lifted the prop with an engine hoist. Terry was in charge to keep the prop steady, and ensure that the blades didn't hit anything as I manoeuvred it in place.
The engine hoist was a big improvement over the nylon strap hanging from a rafter that I had used in the past. The engine hoist allowed very small vertical movements to get the prop perfectly lined up.

---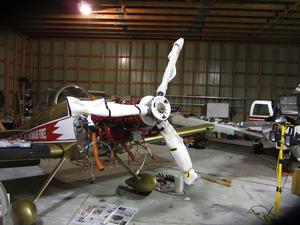 I'll leave the foam wrapping on the prop blades until I am finished doing all the engine installation work, as they provide good protection against minor dings.
After installing the prop I got a few odds and ends installed, then called it a day.

---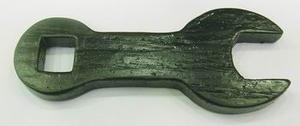 I bought a
Avery prop bolt wrench
at Oshkosh this year, and it was a great purchase. The other times I installed the prop, I used a combination wrench as an extension to a torque wrench. That worked, but you had to be very careful to ensure the ends of the wrench didn't dig into the prop hub. The Avery tool is a copy of a Hartzell design, and it has slightly shorter jaws on the open end portion, which makes it much less likely to hit the hub. It also has a 1/2" drive socket, so you can snap it onto the torque wrench.