Terry and I went to Oshkosh this year, by car. I had hoped to never have to do that drive again, but no such luck. We had done the drive many times in the past, but we really got spoiled by having our own aircraft. With the aircraft, we could be airborne less than 90 minutes after leaving the house, and it would be about 5:00 flying time to Oshkosh, plus an hour stop to clear Customs and have a bit of lunch. Wtih the car, it was 16:30 of driving, spread over two days. Ouch.
We camped in Camp Scholler, with several other RV–8 guys from the Ottawa area who drive down and camp together every year. We were very glad to tag along, as they always sent one guy down early to grab choice spots in the shade under the trees.
It was a pretty hot year at Oshkosh. Monday was 99 deg F. Tuesday was much more bearable, in the mid 80s. Wednesday was almost as warm as Monday. We met many old friends, which is really the highlight of the show. Lots of ice cream was consumed to keep cool in the afternoons. We bought a few small odds and ends, such as a new iPad kneeboard to replace very cheap plastic one I bought last year so I could try out the iPad.
There were two main themes at Oskhosh this year - the 75th anniversary of the Piper Cub, and the 40th anniversary of Van showing up at Oshkosh with the RV–3, which started Van's Aircraft on its way.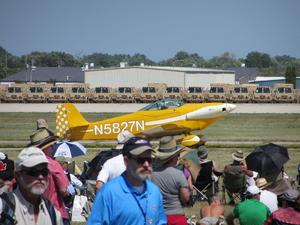 Monday afternoon Van flew the RV–1 into Oshkosh, along with one each of the various RV models, and a 40 aircraft formation of RVs. There was a big ceremony as the aircraft was donated to the EAA Museum.

---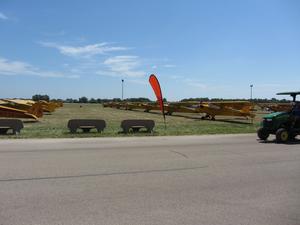 There were dozens and dozens of Cubs all lined up in rows down in the Vintage Aircraft area.

---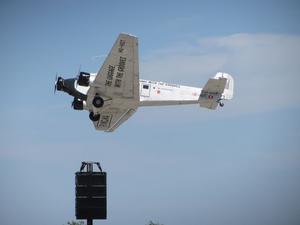 One of the highlights of the show was the Rimowa Ju–52 (actually a Spanish-built CASA 352) that crossed the Atlantic from Germany.

---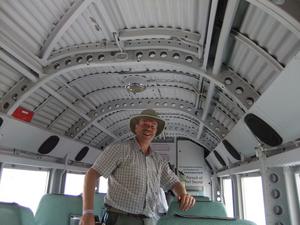 The Ju–52 was in immaculate shape, and we felt very priviledged to spend a few minutes inside it.

---
I talked to Bart Lalonde at the Aero Sport Power booth, to get his take on our engine issue. He guesses that we have a cam shaft that has inadequate surface hardness, and that it and one or more lifters are grinding themselves to bits. He said that they would cover most of the costs of the work under the warrantee - big relief. He agreed that the prop governor must be inspected, as it gets unfiltered oil. He said to leave it on the engine and that they would take care of it. I spoke with a technical support guy at MT Propeller - he said that I should send the prop to an overhaul shop so they could open up the hub, flush it and inspect it. I'll talk to Hope Aero about that. I'll send the oil cooler to Pacific Oil Cooler Service.
After three days at Oshkosh we had accomplished everything on our list, and we had enough of the heat. Late Wednesday PM we decamped and started visiting some of Terry's family in the Green Bay area. We drove back home on Sunday and Monday.