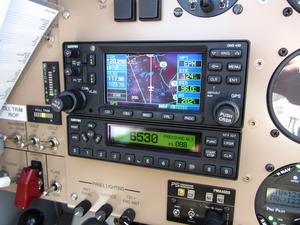 Our flying over the last weekend was a bit of an adventure. We wanted to fly out to Yarmouth, NS to visit my folks. I was concerned by the very active cold front that went through Ottawa on Friday, but it fizzled out in Maine with no frontal weather on Saturday. But, coastal fog in NS was a real problem. The airport at Yarmouth is very close to the water, and it is frequently affected by thick coastal fog. The hourly weather reports were consistently bad - ceilings of 100 or 200 ft and visibilities of 1/2 mile or less, with the temperature and dew point equal.
Finally we saw what looked like an improving trend, with visibility improving to 1.5 miles and a small temperature/dew point spread. We had a good IFR alternate at Fredericton, and some hope that the conditions in Yarmouth would continue to improve. This was likely the only weekend I could free up for this trip until July, so we launched. I kept watching the hourly reports on the XM weather as we approached Yarmouth, and they were not good - that improving trend I thought I saw was just a blip. We did have over 30 kt of tailwind, and the ground speed did occasionally crack 200 kt.
The reported weather was 100 ft overcast with 1/2 mile visibility when we arrived. We shot two ILS approaches to 200 ft above the airport, and saw nothing each time. Conditions in Halifax had improved by that time, and we would rather be in Halifax than Fredericton, so we diverted there. I pulled the power back to economy cruise of 140 kt TAS at 6 GPH to ensure we had sufficient fuel to go to Fredericton if conditions at Halifax deteriorated again. We landed at Halifax after 3:39 in the air, with over two hours of fuel left, at normal cruise, or almost three hours fuel at 140 kt.
---
After landing, we taxiied up to one of the major FBOs and shutdown. The very friendly ground staff who met us quietly suggested that his FBO had no tie-down spots, and they had very high ramp fees. He suggested that it would be a lot cheaper if we parked at Gateway instead, and that Gateway had tie-down spots. We thanked him for his advice, and taxied to Gateway. They were closed (they work on an "on call" basis on weekends), but they also operate a cargo facility right next door and a very friendly gal spotted us and opened the place up for us. She arranged a hotel and rental car, and helped me tie down the aircraft.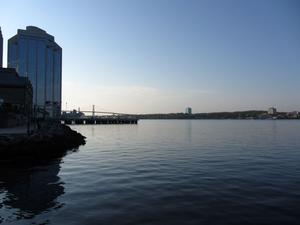 I thought about driving to Yarmouth, but I was tired after the long flight, and didn't relish the long drive. We had a very nice meal and walk along the waterfront.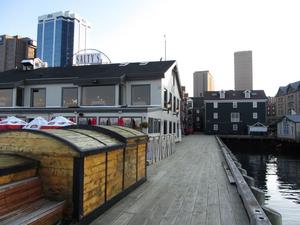 ---
Sunday morning I checked the weather, and was dismayed to see that the weather guessers had made significant changes to the weather forecasts for Monday and Tuesday. Our original plan had been to fly home on Tuesday. The Tuesday forecast was looking marginal when we left Ottawa, but Monday was solid. Now they were forecasting thunderstorms all day in the Ottawa area on Monday. I checked the weather system that was supposed to hit Ottawa on Monday, to see what weather was associated with it on Sunday, and found it had a huge area of very strong thunderstorms. Not wanting to risk seeing that on the way home, we decided to head back home on Sunday. We had a very nice breakfast, sitting outside on the waterfront, then called Gateway to arrange our departure.
---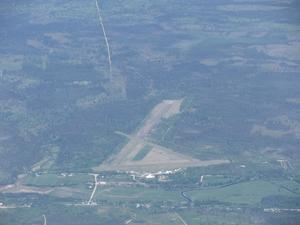 The flight home was slow, as we were now facing very strong headwinds. We had over 45 kt of headwind at the start of the trip, gradually reducing to 25 kt as the trip progressed. On the way northwest, we saw Stanley airport (home of Stanley Sport Aviation) in the distance.
---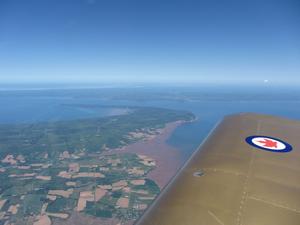 We had a nice view of the Blomidon Peninsula.
---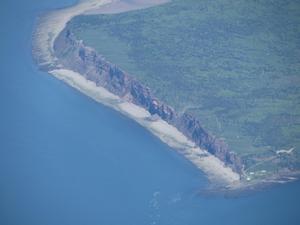 And we also spied some very steep cliffs on Cape d'Or as we crossed the Bay of Fundy at 12,000 ft.
---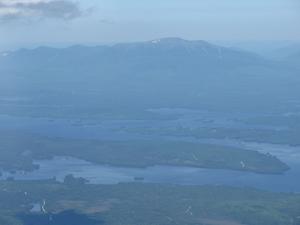 Crossing Maine, we could see Mount Katahdin on the horizon.
---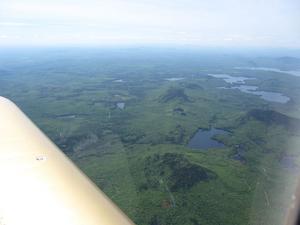 The western portion of Maine is a land of hills and lakes.
---
We did a fuel stop in Sherbrooke, Quebec, where we had a very nice lunch. Co-incidentally, a gentlemen in a Beech Bonanza stopped at the same time. He was on his way from PEI to Toronto. He had originally planned to do the trip on Monday, but the predicted thunderstorms caused him to change the trip date to Sunday too.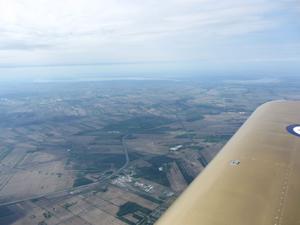 The fields in southern Quebec are characteristically long and narrow. The original land owner would own a large section of land that fronted on the river (or road). He would divide the land between his sons, with the boundaries between the new lots at 90 degrees to the river's edge, so each new lot fronted on the river. The lots would get narrower and narrower as the land was further divided over the years.
---
The thunderstorms that were forecast for the Ottawa area on Monday never showed up, so we could have stayed in Nova Scotia a bit longer. Oh well - it is hard to ignore forecasts of thunderstorms. We'll try to get to Yarmouth on some other weekend later in the summer.