The weather wasn't suitable for the next leg on the RV–1 tour yesterday, but today was much better. Wayne Hadath from Kitchener-Waterloo brought St. Thomas RV and Rocket builder Tom Martin to Smiths Falls. RV builders Gary Wilcox and Ed Perl also came along - the RV–10 is a great truck of an aircraft.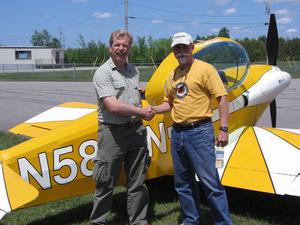 The RV–10 departure from SW Ontario was delayed due to low ceilings, but they finally picked up, and Tom, Wayne, et al arrived a bit after noon. We went though the handover checklist, then shook hands as I passed responsibility for the aircraft to Tom.
---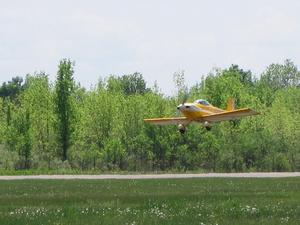 Here we see Tom just airborne from Smiths Falls in the RV–1. Tom, Wayne, et al stopped in Peterborough for lunch, then carried on to Tom's grass airstrip in St. Thomas. Tom will deliver the RV–1 to Windsor for this weekend's RV Fly-In Breakfast. Early next week, he will fly it to Toledo, OH to US RV pilot Bob Mills who will take it all the way to Reno, NV, over several days.
---
While I greatly enjoyed flying the RV–1, and having it in my charge for a few days, it is a relief to have handed it on to Tom. I dreaded being forever remembered as the guy who bent the RV–1.