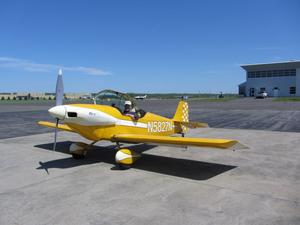 The RV–1 handover in Bromont yesterday went perfectly. We were watching the RV–1 progress on its Spot tracker page, and were able to guage when we needed to leave Smiths Falls. Dale Lamport got us to Bromont 15 min before the RV–1 arrived. Here you see Ross Keirstead, on arrival in Bromont. He had just finished a two hour leg from Rivière-du-Loup, so he must have been looking forward to a chance to stretch his legs.
---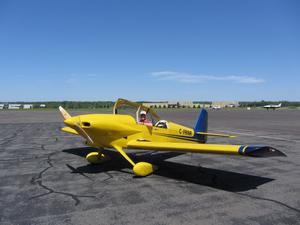 Don Bertelsen, who had shared the east coast RV–1 flying with Ross, brought the RV–1 parenthalia to Bromont in Ross's RV–4.
---
We had a quick brown bag lunch, then Dale and I did a nice 1:17 flight to Smiths Falls. I took off immediately before Dale, and the very light 135 hp RV–1, with fixed pitch prop, easily out climbed Dale's 160 hp, constant-speed prop RV–6A. But, the RV–1 prop pitch is much finer than optimum, so once we leveled off I had to pull the throttle half way back to hold 2500 rpm, and Dale only needed 15" of manifold pressure to hold position at 125 kt TAS.
---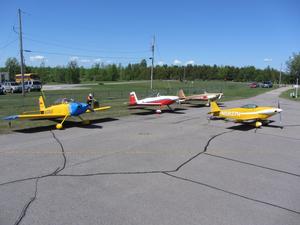 A good number of local RV enthusiasts dropped by Smiths Falls during the late afternoon and evening to see the aircraft. Here you see three RV–8s parked behind the RV–1 - the aircaft belong to Chris Hepburn, Mark Richardson and myself.
---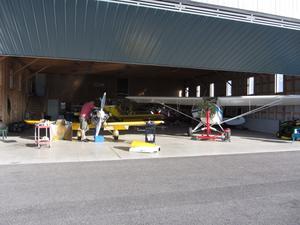 The aircraft was due for an oil change, which I had planned on doing the following eveing. But, Ken Tattersall and Steve Busby, both very familiar with O–290s, offered to do it. I knew very little about O–290s, so I quickly accepted their offer. I wasn't wearing work clothes, so I was stuck with camera duties, and fiddling with cowl hinge pins.
---
Tom Martin is planning to accept the aircraft tomorrow, and ferry it to his private airstrip in St. Thomas, ON. Tom will get it to Windsor for the planned event on the weekend, then fly it to Toledo to hand over the US RV pilot Bob Mills. Bob takes it all the way to Reno - I hope Bob has very short legs and a cast iron butt :)