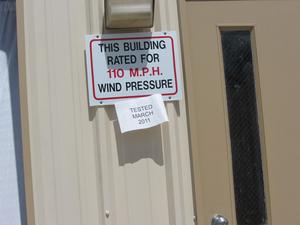 Similar to Oshkosh, SNF has large outdoor exhibit areas and four indoor exhibit buildings. But both are one third (or less) of the area of the ones at Oshkosh. That is bad if you are looking for some small, specialized vendor, as they may very well not have bothered to come to SNF. It is good if you are only interested in the larger vendors, as it doesn't take as much walking to see them all.
I bought an oxygen system from Aerox and a Dual bluetooth GPS receiver to use with my iPad and iPod Touch.
The indoor exhibit buildings were very stout structures, which had been designed for up to 110 mph of wind. Someone had tacked on "TESTED MARCH 2011" - a reference to the tornado that wreaked havoc during SNF 2011.
---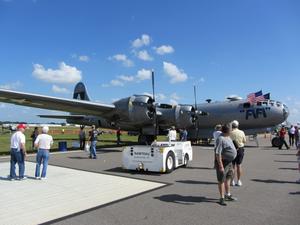 The warbirds area is also much smaller than at Oshkosh. But, it did have Fifi, the only flying B-29.
---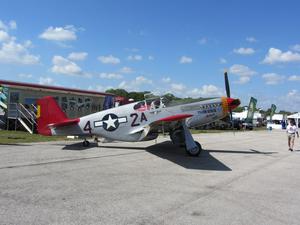 The CAF Red Tail Squadron provided their P-51C, painted in the red tail colours of the Tuskagee Airmen. I watched the very well done Tuskagee Airmen documentary film they were playing in their travelling exhibit.
I never did make it over to check out the RVs in the Homebuilt Parking area, as that area is under the airshow line, and must be cleared of people by noon. My visit to the warbirds area was also cut short, as it too is close to the airshow line, and they started clearing it at 1100 to ensure it was cleared by noon.