I had been to Sun n' Fun once before, in the mid 90s, flying to Orlando via airlines then renting a car. But I had never flown in. This year my work schedule unexpectedly opened up in late March, so I grabbed the opportunity to fly to SNF. The original plan was that Terry would come down with me, but her work schedule got fouled up and she couldn't break free. I offered the back seat to two coworkers, but both had conflicts. Several other people that I would have liked to offer the seat to had weights that would have created aft CG issues when combined with typical baggage loads. I eventually decided to just go alone, as that was a lot simpler. In the end, I'm glad I was solo, as I bought an oxygen system and it came in a big box that would have been difficult to fit in the baggage area, but was easy to strap down in the back seat.
The original plan was to clear US Customs in Watertown, NY, and I filed the Electronic Advance Passenger Information System (EAPIS) manifest with Watertown as the Customs stop. The Customs officers who handle Watertown are based at the international bridge, and have to drive 45 minutes to get to the airport. But, you can call their office 24 hours a day, and they will drive to the airport anytime after 0800.
But, a strong cold front was forecast to pass through Ottawa Sunday night, and the surface winds after the front were forecast to be strong from the north, which would be a crosswind in Watertown. I hoped the weather forecasters were pessimistic, and the actual winds would be low enough to allow landing at Watertown. Syracuse, NY had a northerly runway, so it was Plan B.
Monday morning I saw that the winds were already up over 25 in Watertown before sunrise, so I gave up on it and moved to Syracuse as the planned Customs stop. Syracuse has Customs officers based at the airport, but they don't accept phone calls until 0800. I called at 0800, and was told to call back at 0830. Arrgh!
I called back at 0830, and was told that no Customs officers were at work yet, and to call back at 0900. Double Arrgh!!
I called back at 0900, and was told to call again at 0910.
I called at 0910, and finally spoke with a Customs officer. He said he couldn't find my EAPIS submission. I explained that it had been filed with Watertown, NY as the Customs stop, but that the EAPIS site quite clearly said that a new submission was not required if the Customs stop was changed, as long as the aircraft occupants and date were not changed. The Customs officer said that he needed to review all the inputs in the EAPIS submission before giving me permission to clear Customs in Syracuse, and be could only access the submission if it listed Syracuse as the Customs stop. I said that the EAPIS personnel had already reviewed my submission before they gave me clearance for the flight, and asked if he needed to repeat that work. He did. I offered the EAPIS number so he could find it in the system, but he said that I need to resubmit it. Arrgh!!!!
I hung up, resubmitted the EAPIS manifest and called Customs in Syracuse again. Finally, at 0930, I received permission to come to Syracuse. I got airborne 90 minutes later than originally planned. The big adventure had finally started.
US Customs, once I finally got to see them face to face in Syracuse, were friendly and accommodating. They graciously allowed me to import lunch, despite the obvious extreme risk of possible hidden terrorist pathogens in the forbidden sandwiches.
The winds were about 20 gusting 30, straight across the runway in Smiths Falls when I took off. This was about five kt more crosswind than I had seen for take-off before, but there was lots of control available. The temperature was way below freezing.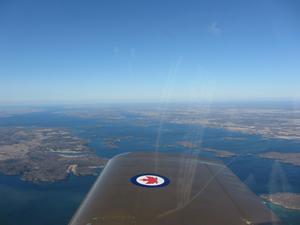 Crossing the St. Lawrence River, south bound. I had about 30 kt of tailwind on the way to Syracuse. The crosswind at Syracuse was larger than expected, with about 16 kt of crosswind component. The landing was sporty, but went well.
---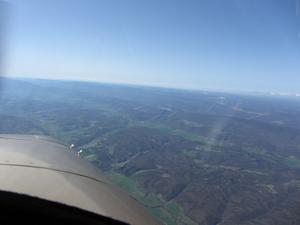 The hills of Pennsylvania. Tail winds 20-25 kt. Occasional mountain wave activity with airspeed changes of 20 kt and moderate turbulence.
---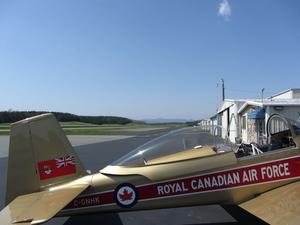 At the fuel pumps in Martinsville, VA. I had chosen Martinsville for the low fuel prices and the airport restaurant. But, it turned out that the restaurant was closed on Mondays, so I was happy to have my Canadian sandwiches to eat.
---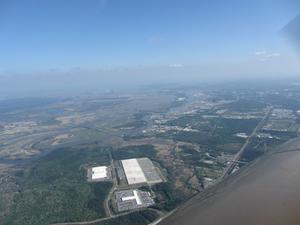 Approaching Savannah, GA.
---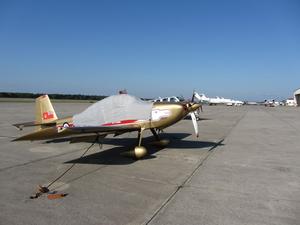 I could have made it to SNF late on Monday, but I would have got there less than 30 minutes before the airfield was closed for the night, and I would have been setting up the camp site after dark and then looking for food. That didn't sound like fun, so I had planned to stop for the night in Brunswick, GA. Here we see the RV-8 tied down in Brunswick. I was exhausted, and it was great to stop.