We got up early this morning and were airborne from Green Bay at 0730 on our way to Oshkosh. We really beat the rush, as it was very, very quiet on the Fisk arrival frequency. Normally, that frequency is a one way operation, with the controllers transmitting, and pilots responding by rocking the aircraft's wings to acknowledge the controller's instructions. But, this morning it was so quiet that the Fisk and tower controllers were asking questions that required a response, such as "where are you from?" and "beautiful RV-8 - did you build it yourself?"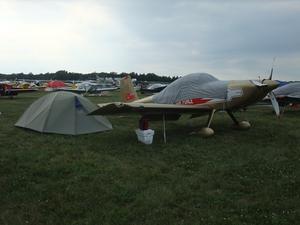 We landed at 0805 and had a fairly long taxi to the Homebuilt Aircraft Camping area. After getting the aircraft tied down and the camp site set up, we had lunch then walked to the campground store to pick up essentials such as a styrofoam cooler and beer. We're in row 311, if anyone is looking for us.
This afternoon we spent hours sitting in our chairs out by the flight line watching the arrivals. Terry was fascinated by the variety of aircraft.
I've run into quite a few people that I had met before, or only knew from e-mail. I stumbled across Lower East Pubnico, NS RV-10 builder Ron B, who has a beautiful grass airstrip a few miles from where I grew up.
Monday morning we'll go to a gathering of RV-8 builders, and do some shopping for aircraft stuff.