I flew to Green Bay, WI on Friday, with a stop to clear Customs and have lunch in Sault Ste. Marie, MI. A strong cold front had gone through the day before, and the head winds north of the front were very strong. I was fighting 30 kt for the first half the leg to Sault Ste. Marie, decreasing to about 20 kt for the last part of the trip. Even with that, it only took 2:50 to fly the 380 nm (437 sm or 704 km), for an average speed (including climb, manoevring on arrival, etc) of 134 kt (154 mph or 248 km/h). The winds were slightly better for the leg down to Green Bay, but not by much. It would have been a great day to be flying from Green Bay to Smiths Falls, as I could have done the trip non-stop in about 3:15, rather than the 4:23 (over two flights) it took going the other way.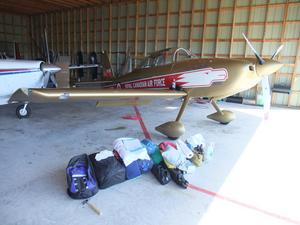 Here is the load of camping gear, etc that I stuffed in the aircraft. I still have to get Terry's luggage in, as she flew down to Green Bay with the airlines a few days ahead of me to visit with her sisters. Hopefully she didn't do much shopping :)
---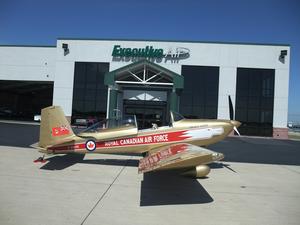 I parked at Executive Air in Green Bay - I've used them every time I've flown to Green Bay, and have always received wonderful service. They go out of their way to take care of you.
---
This morning Terry and I zipped out the airport early, to get the aircraft ready to give rides to a long list of family members. Six short flights in all, and lots of time looking for people's houses. We found all the houses, but some of them took a bit of patience, as things look different from the air which meant I wasn't getting much navigational assistance from some of the house owners. It was pretty hot, so I was ready to stop after the sixth and final flight was finished.
This evening I'll review the arrival procedures in the Oshkosh NOTAM. We'll get up early Sunday morning and try to beat the rush into Oshkosh for the huge Experiment Aircraft Association Fly-In. We'll be parked in Homebuilt Camping if anyone is looking for us.