I had a proficiency flight scheduled on a C182 this morning. For some crazy reason Transport Canada can no longer purchase AvGas on the south field at Ottawa, so you need to be careful to not bring the plane back too low on fuel. Smiths Falls has the cheapest AvGas in the area, so I stopped there near the end of my flight to gas up. I then pushed the plane to the side of the ramp, and walked over to the Kolorfast paint shop.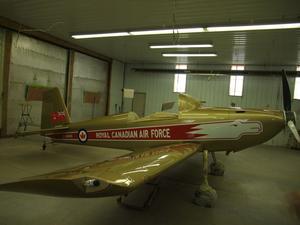 Korrey was anxious to show me the aircraft - he was very happy at how it had turned out, and he was proud to show me. I was blown away when I walked in the door - it looks gorgeous! The camera doesn't really do it justice. I'm looking forward to seeing how it looks in the sun once it is reassembled, and the reaction it gets from other people.
It was sweltering in the paint shop, as the heat was cranked way up to help the paint cure. I'll pick the plane up late tomorrow afternoon, and start reassembling it on Saturday.