Things are going well, all-in-all. I'm not having any pain, as long as I am careful to move the left arm slowly. If I move it too quickly, the healing collarbone lets me know about it. I've got no pain in the broken right leg or left wrist. I'm a bit more mobile every day. Terry's back injury appears to be healing well, and at the moment it looks like she may avoid back surgery. I've got another follow-up visit with the othopaedic surgeon coming up on Thursday.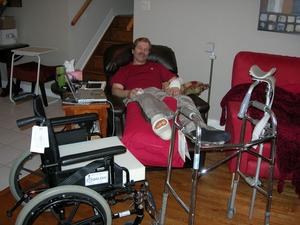 The house is full of rented medical equipment. I can't climb the steps to the bedroom, so I'm sleeping in a rented hospital bed in the dining room. I've got a low wheelchair so I can move around the main floor of the house, using my right hand to turn the right wheel, and pulling with my left foot on the floor to move the left side of the wheelchair. Fortunately we have an open concept main floor, with 100% tile or hardwood flooring, so I can roll around without difficulty.
The circulation and lymphatic system to my right foot was a bit disrupted by the injury, and I'm not putting any weight on the right leg (weight on and off the legs activate the "pumps" in the lymphatic system), so I need to keep my right leg fairly high or the foot starts to swell. I'm spending most of my time in an electric reclining chair instead of the wheelchair. I've got a special walker that I use to help me transfer from recliner to wheelchair, wheelchair to bed, etc. It has a padded horizontal trough that I put my left elbow in, so I can hop on my left leg.
A significant percentage of my time is spent filling out never-ending insurance forms, or dealing with other fallout from the accident. I spend a few hours on the weekdays doing work-from-home (e-mail,reviewing documents, etc). I've also started working on several articles that will hopefully eventually end up in Kitplanes magazine.
Terry's sister Sue is still here - she is about half way through her three week stay. After she leaves, two more of Terry's sisters will come for a week each. Terry's coworkers have brought by several loads of home-cooked food, and Hugh, one of my coworkers, gave us a bunch of his world famous home-made spaghetti sauce. Jim, another coworker, has spent untold hours helping out in myriad ways. Thanks everybody! I don't know how we would have made it without the help of friends and family.
Thank you to everyone who has e-mailed or phoned. Your support means a lot to Terry and I. We've had many offers of help, and we will cash some of those in soon, as there is some yard work that will need doing.