The engine arrived at the Day and Ross depot on the weekend, so I picked it up late this afternoon. There were no signs of distress on the crate from the accident that the trailer was in. When I got the engine to the hangar, and popped the top off the crate, everything looked just fine.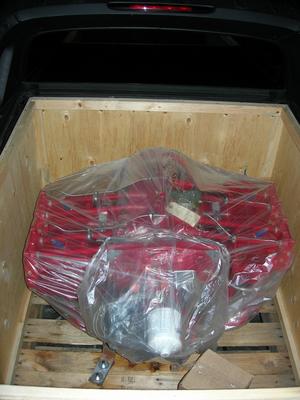 Sharp visitors may note that the engine is now a slightly different shade of red. Originally, I asked Aerosport Power to paint it a VW Mars Red, as that red is close to the red in the Golden Hawks paint scheme. But, later, I saw what their standard red looked, like, and it is equally acceptable. When I pulled the baffles off the engine, some of the original paint came off in large areas, so Aerosport repainted it at no charge. They asked if they could use their standard red colour, and I agreed.
I am very happy to have the engine back in Smiths Falls, but won't be completely comfortable until the prop has arrived too. The prop is currently sitting in a warehouse in Toronto, waiting for Customs release. There was quite a screw up with the prop shipping. I had very specific written communications with the North American agent for MT prop who I bought the prop from. He agreed that the prop would be shipped to a depot in Ottawa. But, somehow the folks who shipped the prop from Germany thought that getting it to Toronto was close enough, and they made no provisions for onward shipping from Toronto to Ottawa. I called the North American agent this afternoon, and he agreed to reimburse my costs to have the prop trucked from Toronto to Ottawa. I will be in Toronto for meetings the next three days, so tomorrow evening I will go to the Canada Customs facility at the airport to give them their pound of flesh (and two pounds of paper and a big wad of cash) so they will release it.