I was on the road all week, doing CRJ-700 high altitude airfield operations testing. The testing involved flying a whole bunch of different profiles, to evaluate various aspects of the modification to the pressurization system that allowed ops from airfields above 8000 ft pressure altitude. The testing culminated with two landings and take-offs from Telluride, CO. The 6,870 ft long runway at Telluride is in a bowl on top of a plateau, at 9080 ft elevation. The runway slopes down at -1.9% gradient to the middle, then up at +1.9% gradient to the far end. There is a very sharp cliff just off each end of the runway. The airport is surrounded by terrain up to 14,000 ft, except along a valley that comes in from the west.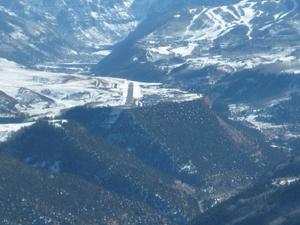 Landings are preferred on runway 09, to take advantage of the approach in the valley, and to avoid an expensive subdivision that is built right at the east end of the runway. If you have to land on runway 27, the noise abatement procedure has you aim at the button 15 degrees off the runway centreline, then turn on to the runway axis just before starting the flare. Not a big deal in a light aircraft, but it is a fairly sporty manoeuvre in a big regional jet. Last time I was there in the CRJ-700 we had to land on 27, but last week the winds were light, so we could use 09.

---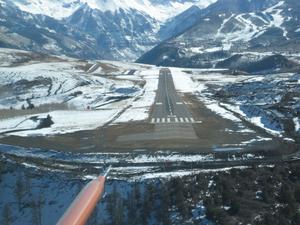 This is not a long runway for the CRJ-700. Landing distance is not a problem as long as the runway is dry, but accelerate-stop distance is critical for take-off.

---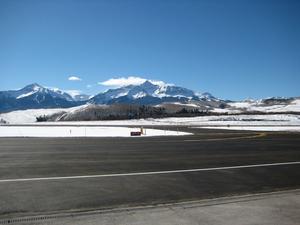 Someone claimed that this mountain visible south of Telluride is the one on Coors Light cans. Fact, or fiction? No idea. It didn't seem appropriate to be asking for a Coors Light can to look at, as we were going to be taking off again in a few minutes.

---
I went out to the hangar for a few hours today. I updated the Dynon EFIS software to the latest version, made some measurements of the prop governor so I know what angle to order for the control arm, measured for some cockpit storage I need to make, removed the turn and bank, so I can take it to a gyro shop (the gyro no longer spins), and tested out a bug fix to the EIS 4000 recording software.
The engine arrived at Aerosport Power, and they have disassembled it. The last e-mail I got said that Bart Lalonde would inspect it on Monday. Fingers crossed.
I've put a deposit on a PCU5000 prop governor. It seems to be the best of the currently manufactured governors, as near as I can tell. There is currently a pretty good discount available as part of a group buy organized on the VAF WWW forums.