I got back from Wichita Friday afternoon. I got up at 0530 this morning, and zipped out to Smiths Falls, to get the aircraft ready for the final inspection. I had a short list of little things to sort out, then I removed the seats, cockpit floors, baggage compartment floors, wing and empennage intersection fairings, all inspection covers, etc.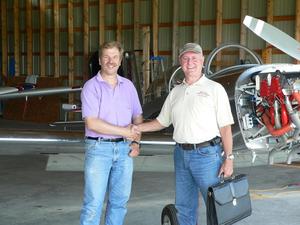 Pierre Marcotte, one of the local MD-RA inspectors, showed up at on schedule at noon. I wasn't sure what to expect, but he was very helpful, friendly and reasonable. He took about 90 minutes to inspect the aircraft, and only had one gripe - he noted that I didn't have any markings by the external canopy latch handle. He wanted me to identify this as the means to open the canopy, with an arrow showing which way to rotate the handle. I had planned to add such a placard, but never got around to it. I drew one up late this afternoon, and printed it out on a clear sticky label. I'll head back out to Smiths Falls tomorrow afternoon to put it on.
After Pierre was done with the inspection, he wanted to observe an engine run. I put the front seat and seat belts back in, and did a short run, including cycling the prop, while he observed the prop tracking, looked for leaks, and confirmed proper functioning of the engine instruments.
I need to sign the back of the inspection form to confirm to Pierre that I have added the canopy opening placard, and send him the application for the Special Certificate of Airworthiness, a copy of the log book entries, and a photocopy of the Certificate of Registration. He signs the paperwork, and forwards it to his MD-RA people. They then fax me the Special Certificate of Airworthiness. It is hard to know how long this process will take. In the meantime, I have several hours of work to put the aircraft back together, and I have a short list of niggly items that I need to close off before I am ready to do taxi testing and first flight.
I am so happy to have the final inspection out of the way. Terry and I popped the cork on a bottle of Champagne to celebrate.