Way back in 2005, I made my first aborted attempt to install firewall insulation. I stopped when I discovered that the stuff I was installing burned fiercely when it was exposed to a flame, producing great quantities of thick black smoke. Since then I have been looking for a better material.
Someone eventually suggested I check into the insulation sold by Flightline Interiors. I called Abby, and asked about how fire resistance it was, and whether it had been tested against the criteria of FAR 23.853 (design standards for type-certificated light aircraft - we don't have to comply with them, but they provide a useful benchmark). She wasn't sure about the FAR testing status, but she believed the material was fairly fire resistant. She offered to send me a sample.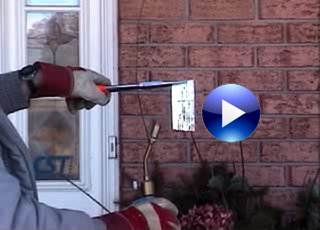 The sample arrived about three weeks ago, along with an information sheet. I learned that it was 3/8" thick Thermozite Plus with foil on each side, and Google told me that it was very popular in the automotive industry, and that it was supposedly fire resistant. The data sheet claimed that it met the Federal Motor Vehicle Safety Standard 302, whatever that was.
The following weekend I enlisted Terry's assistance to document a rudimentary burn test. I'm not equipped to do a proper FAR 23.853 burn test, but I tried to do the closest thing I could, considering the small sample size. I found that the inner material would burn when subjected to a direct flame (this is allowed, as long as it quickly self-extinguishes when the flame is removed). A small quantity of black smoke was produced, and the flame went out very quickly when I removed the torch. All in all it was a big improvement over the first material I tried, and it probably comes close to FAR 23.853 criteria.
---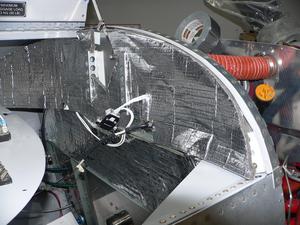 This evening I started to install the Thermozite firewall insulation. I've got the upper most section mostly fitted, but I've got a few more tweaks to do. I'll use some aluminum tape to finish the edges, and I'll attach it with a few Velcro strips so it can be removed if required. Yes, I suspect the Velcro will burn, but I won't be using very much of it.