Transport Canada Airworthiness Manual Chapter 549 and the associated Airworthiness Manual Advisories require a number of placards in the cockpit and on the aircraft exterior. I had originally planned to use my Brother PT-2600 label maker to do the placards, but it only prints on tape 1" wide, or narrower, which was a bit tight for what I wanted to do. Last weekend I noted that Steve Hurlbut had used some sort of clear film to make placards in his aircraft. He put me on to 8.5" x 11" clear label stock that is sold in stationery stores. You print on it with a ink-jet or laser printer, then cut out the label and stick it on.
I spent several hours this week researching exactly what placards I must have in the cockpit, or on the aircraft's exterior. What must they say, how large must they be, and where must they be located. Then I messed around with several programs trying to make some good looking placards. I eventually ended up using Neooffice, which is a derivative of OpenOffice, a free office suite program available for many computer operating systems. It has a reasonably full featured drawing module that worked well for making the placards.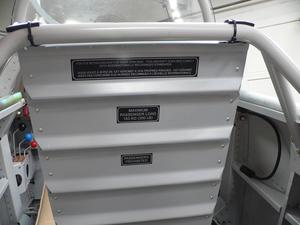 Here are the placards that are required to be visible from the passenger seat. The "Passengers Prohibited" placard will be removed once the aircraft has finished the official flight test phase.

---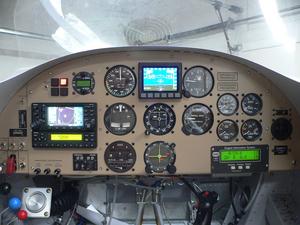 The instrument panel also gets a "Passengers Prohibited" placard, and it has an "Aerobatics Prohibited" placard, both near the top right. I'll need to follow the process in AWM 549.101A to remove the "Aerobatics Prohibited" placard.