The last few days I've trimmed the edges of the windscreen fairing and done several rounds of filling and sanding on it. The initial basic fit was good, but the external surface was wavy and rough. The basic external contour is much better now on most of the surface, but some areas still need a lot of work.
I've also done some pin hole filling and priming on the wheel pants, gear leg fairings and the spinner. Slow progress here.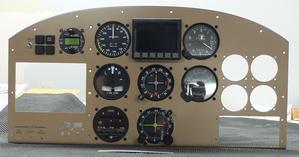 I installed the flight instruments into the instrument panel, hopefully for the last time. I need to order two shorter instrument screws for the Narco 122D, but all the other instruments went in with the screws I had on hand. I've got washers under the heads of the two screws on the Narco 122D for now.