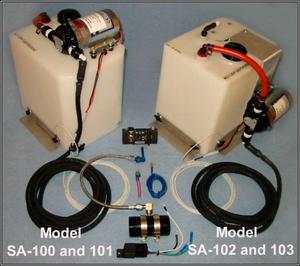 I've long wanted a smoke system for the RV-8, and I've actually reserved the gun-trigger switch on the stick grip for it. But I wasn't looking forward to sorting out the design and debugging it. Plus I've read many comments about how much of a mess the smoke oil is to deal with.
This morning I read a message on the RV-List from an RV-6 flyer who had recently installed a smoke system. He raved about the ease of installation and good design of a ready-made smoke system from Smoking Airplanes.

---
RV-List message:
From: "Stein Bruch" To: 

This email address is being protected from spambots. You need JavaScript enabled to view it.

: RE: RV-List: smoke systemDate: Sat, 28 Aug 2004 21:15:21 -0500--> RV-List message posted by: "Stein Bruch" Funny you should ask....I just installed the system fromhttp://www.smokingairplanes.com.  I've been happily leaving long trails overthe past couple of weeks!  I'll have pictures on my website soon.The kit is THE most complete kit that I've ever seen, from anyone.  Comeswith every little piece of hardware you can imagine, right down to Zip Ties,Hose Clamps, Electrical terminals and wire.The neat thing is that it comes with an adjustable valve where you can turnthe smoke down from "full bore" to zero, which makes the oil last longer.Took me a whopping 2 hours to install the entire system!  John, the guy whoruns that company will happily answer any questions you have, and is a realnice guy.  Tell him I sent you!Just my 2 cents!  I'll hopefully have pictures soon.Cheers,Stein BruchRV6's, Minneapolis.
And they even have a version that will install in the RV-8 forward baggage compartment, although I'm not sure I have enough room to work around the piece of SCAT tube that carries heated air. I'll probably purchase this kit someday.