I was in Wichita all last week, and didn't get back until Saturday night. I'm heading back on the road tomorrow too. :( I'm going to be on the road this summer quite a bit more than I had expected. But, I've got a whole bunch of vacation time saved up, and I'm going to take four or five weeks off whenever things slow down, so hopefully I'll be able to make some good progress then. I've got to get this thing flying.
My Odyssey PC-680 battery arrived while I was away. I bought it on e-Bay, from someone who seems to be making quite a business out of selling them. He has good prices, he sells a lot of batteries, and no one has registered a single complaint against him. The battery looks to be new, it was well packed, and it was fully charged. So, if you are looking for a good price on an Odyssey battery go to e-Bay, and look for batteries for sale from "odyssey_world".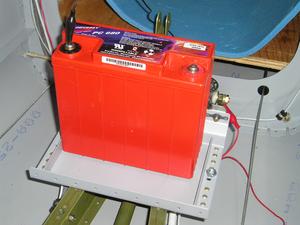 I will have to make up some spacers to go between the edges of the battery tray and the battery, as it is a lot smaller than the tray. I figure I'll make something out of wood, varnish it and bolt it into place. I've also got to make up the battery cables, now that I can figure out how long they need to be.
I used some patch cables to hook the battery to the electrical system. I was finally able to do a functional test on the starter control wiring. The power supply I was using didn't have enough "oomph" to properly work the starter contactor.