This weekend, I did the final adjusting on the most aft elevator pushrod, and torqued the rod ends. I fabricated and drilled the aft seat shoulder harness mount.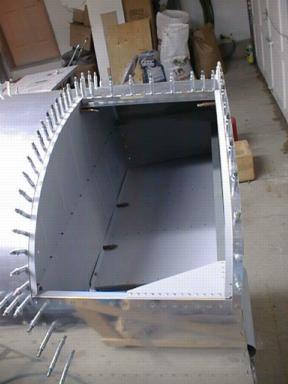 Then I attacked the front baggage compartment door. The instructions give you the option of riveting the upper front skin now, or later. I elected to just cleco it in place and rivet it later. This will greatly improve the access in the forward fuselage during the wiring phase, but I have to be careful where I run the wires to make sure I leave room for a bucking bar to get those rivets later.
There are more front baggage compartment photos from earlier in the construction process on another page. The door hinges at the inboard edge (top in this photo). I got the first stage of fitting, drilling, deburring, dimpling etc done today, and primed those parts. Tomorrow I'll starting riveting it together.