After fitting the instrument panel, I worked on the cockpit sills (the long flat pieces on the top edge of the fuselage sides at the cockpit) and the Wd-808 Front Seat Back Support (the bunch of black tubing in the photo). I also did the final riveting on the Landing Gear Boxes, now that I have the Wd-813s back from being powder coated. I've done all the work I need before flipping the fuselage over and fitting the main landing gear legs, but I'll delay that until a convenient point.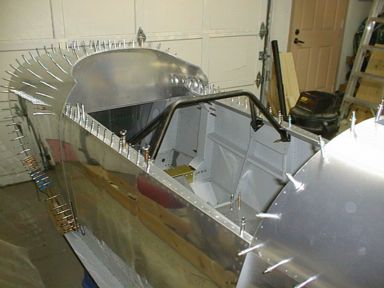 Next, I started work on the front seat back, but managed to dork up two parts in quick succession, so I decided to stop work for the day before I really messed something major up. Some times the force just isn't with you. I'll stop by a local metal supplier tomorrow and get some more aluminum angle to replace the parts I messed up.
The Canadair Regional Jet series 700 flight testing is finally starting to wind down, so I should be home a lot more now, which bodes well for making some progress.