During last week, I worked on the mid-cabin braces, and mid-cabin consoles. I also did the first stage of work on the front seat bottom. I tried to install the rudder pedals last week too, but one of the parts was screwed up (looks like the part was upside down when the pilot holes were drilled at Van's, and there isn't enough room to drill new holes. Van's will send a new part at their expense - they are pretty good that way.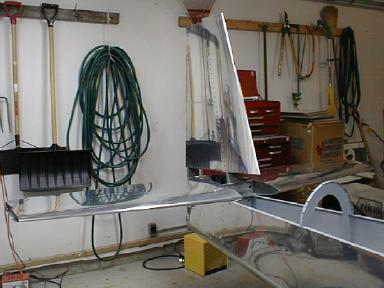 Yesterday I started fitting the horizontal and vertical stabilizers (HS & VS) to the fuselage. This was a very finicky process, as you have to get them properly located, and at the right angle, in all 6 dimensions (3 for position, and 3 for rotation in all axes). It is a matter of clamp, measure, unclamp, move, clamp, measure, etc.
Saturday, 1 July, was Canada Day - Canada's 133rd birthday. Terry and I enjoyed the festivities downtown in the afternoon and evening, and watched the fireworks from a 25th floor hotel room. What a view! This cut into my building time, but you have to have some balance in your life. Today, some old friends that we haven't seen in years came by - they are moving from Alberta to our part of Ottawa. After they left, I finished fitting the HS, and started on the VS. Tomorrow is a holiday, so I'll finish fitting the VS and work on getting the elevators and rudder fitted. Sure looks good to see the tail on the fuselage!