Two days after getting the fuselage out of the jig, I went to Roswell, NM for 10 days to do take-off and landing performance flight testing on the Canadair Regional Jet series 700. It was great flying, but it was frustrating to have to put the fuselage on hold again. But, every cloud has a silver lining - thanks to Larry Pardue and Brian Denk, I was able to get rides in an RV-6 and RV-8 while I was there. Wow! I'm all fired up and anxious to get building. I hope to be back in town for at least a couple of weeks, so I want to make progress on the fuselage.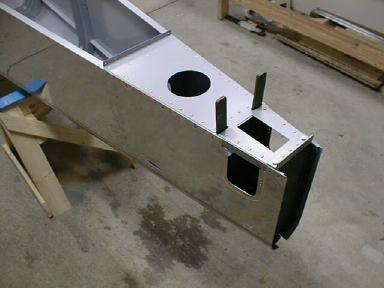 After getting back from Roswell, I fabricated, drilled, deburred and primed the various angles and spacers needed to install the F-819 Aft Deck. The Aft Deck is a thick, flat piece of metal that sits on top of the longerons at the aft end of the fuselage. It forms the surface that the horizontal tail mounts on, and ties the longerons together to give the fuselage some torsional rigidity.
Jim Manton and old friend from when I was in the military, is moving to Ottawa, and is staying with us for a few weeks while he looks for a house to buy. He is interested in building a plane someday, so he has been helping me. He has to crawl up the learning curve with metal working tools, reading plans and instructions, etc, so it is a bit like being helped by a five year old. He is very enthusiastic, but you have to keep a close eye on what he is doing. He helped me prep the cockpit floor boards.