Yesterday was forecast to be another beautiful day, so Terry and I decided to fly to Bromont, QC for lunch. We had never been there before in the RV–8, but the new restaurant in the airport terminal building had very good reviews, so off we went.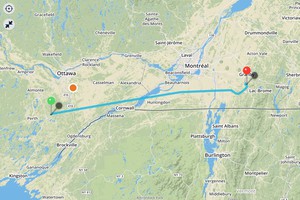 Bromont does not report weather, but it is in between Montreal and Sherbrooke. The weather in the morning was great in the Ottawa area, but Montreal was unexpectedly overcast at 700 ft, but forecast to improve mid-morning. Sherbrooke was clear. The Bromont weather was anyone's guess. Fortunately we can fly Instrument Flight Rules (IFR) - i.e. I can legally fly in cloud, so the possible poor weather was not a significant concern, as long as we had enough fuel to fly to an alternate airport with good weather, just in case the weather at Bromont turned out to be too poor to land.
We flew towards Bromont at 7,000 ft altitude, and could see the low overcast cloud below as we approached Montreal. We started to fly the instrument approach into Bromont, but the low clouds disappeared when we were about 15 miles from the airport, so we switched to flying visually and landed.
---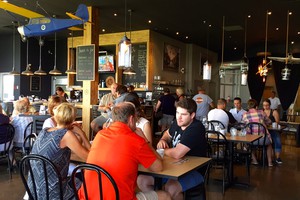 The airport restaurant, Bistro M, was extremely busy. It looked to be all local non-aviation people, except for us and the crew of the Challenger business jet who landed shortly after we did. The food was excellent - we will go back.
---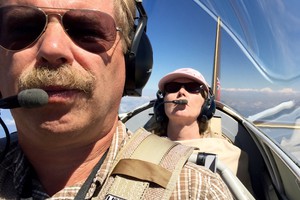 Terry was a bit tired after the tasty lunch, so she snoozed on the way home.