I didn't get any RV–8 flying in last weekend, as I was in Salina, KS for several days doing some CSeries flight testing, getting back home on Wednesday.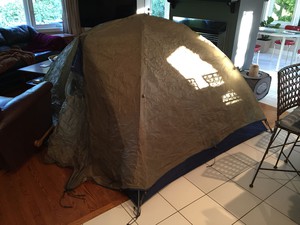 I've been checking all my Oshkosh camping gear the last two days, and hope to be on my way in that direction Saturday morning. The Master Plan is to fly to Green Bay on Saturday, with a coworker in the back seat. We would spend the night at one of Terry's sister's house, and fly to Oshkosh first thing Sunday morning.
The weather picture isn't the best for our usual route via Sault Ste-Marie, MI, so we may have to take the longer southern route around the bottom of Lake Michigan. Or, we may wait a day or two, as the weather looks better on Monday and Tuesday.