At one point I was hoping to depart for Sun 'n Fun (SNF) in Lakeland, FL (KLAL) yesterday. Sun 'n Fun is a fly-in somewhat similiar to the big EAA fly-in at Oshkosh in July, but quite a bit smaller. I was supposed to be on the road this week, but that trip eventually got delayed, so I tentatively booked a week of vacation, and did the preliminary planning. I had flown the RV-8 to SNF once before, in 2012.
The nominal plan was to fly to Brunswick, GA (KBQK) on Monday and overnight there. I would have flown the last leg into SNF on Tuesday AM, and flown all the way home on Friday. I could make it all the way to SNF in one day, but that would have me setting up camp in the hot humid weather late in day, and then rushing onto the main site to find food before they stopped serving. That didn't sound like fun at all, which is why I intended to stop overnight in southern GA.
The big SNF plan came off the rails when I got sick last week. I recovered over the weekend, but I am now way behind schedule at work, and can't really afford to take this week off. The weather for the week at SNF isn't looking terribly enticing either, with a front hanging around and frequent showers.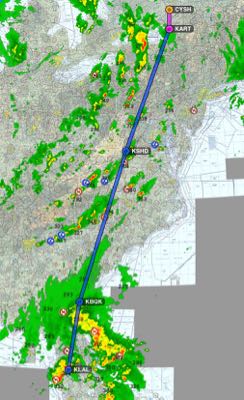 The weather yesterday wouldn't have made for an enjoyable travel day. It was cool here, with rain all day. It wouldn't have been possible to go IFR out of here, as I would have been flying in cloud, with the temperature below freezing, and likely picking up ice. The ceiling and visibility were high enough to go VFR underneath the cloud, but that wouldn't have been enjoyable at all.
The winds at my original planned IFR cruise altitude were very strong from the south - I would have had about a 65 kt headwind at the start, decreasing as I clawed my way south. There were also signficant thunderstorns in a system going by Brunswick, GA, so I would have had to stop somewhere further north. I'm glad I wasn't dealing with all that yesterday.