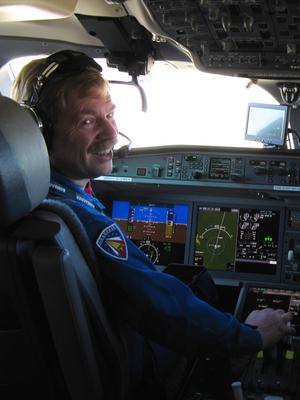 I suspect that not many of you are too interested in who I am, but just in case you are, here goes.
I grew up on a farm near the small town of Yarmouth, Nova Scotia. Yarmouth had about 10,000 people, and was the biggest town for 200 miles.
I was introduced to flying at an early age, as there was an 800 ft grass airstrip on our farm. I have fond memories of the frequent rides in the Piper Cubs that were based there.
In 1982 I graduated with a degree in mechanical engineering from the Royal Military College at Kingston, Ontario, then did my Canadian Forces flight training at Moose Jaw, Saskatchewan. After receiving my wings, I flew CP-121 (aka S-2) Trackers for four years doing maritime patrol off of Canada's east coast.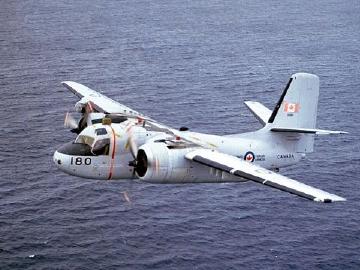 After flying Trackers, I was looking for something a bit more technically interesting so applied to go to test pilot school. If want to know more about what a test pilot is, and what he does, see Test Pilot Stuff, by Eric Volstad. If I got selected, I expected to go to one of the US military test pilot schools, or maybe the Empire Test Pilot School in England, but I was floored when they said that I going to EPNER, the French test pilot school.
I spent a year learning all about flight testing and got to fly a great mix of aircraft. Everything from sailplanes to several types of Mirage fighters to Airbus airliners. After a year on the Mediterranean, it was hard to move to Cold Lake, Alberta to join the Aerospace Engineering Test Establishment.
After six years doing military flight testing, the military thought I was due for several years of desk jobs, but I had other ideas. I left the military to become a certification test pilot with Transport Canada. Now I can fly until I am ready to retire, and the next move will be my idea, not the military's.
The best thing about working as a test pilot is the variety. In 1994 I got to fly 16 different types of aircraft. The years since have been a bit slower, but I still fly 8 - 10 types each year. I was the project pilot for the Diamond Katana, Canadair Challenger 604, Bombardier Global Express, Canadair Regional Jet series 700, Global 5000, Global Express Enhanced Vision System, and Global Vision Flight Deck avionics upgrade.
I have also done short flight test programs on the Found FBA-2C3, Cessna Citation X, Airbus A330 and A340, Jetstream 41, IAI Galaxy (now owned by Gulfstream), EMBRAER ERJ-145, ERJ-170, ERJ-175, ERJ-190, and Gulfstream G450 and GV. I was the secondary Transport Canada project pilot on the Canadair Regional Jet series 900.
2015 has added the Bombardier CSeries airliner to the list.
Kevin Horton
6730 Parkway Road
Greely, ON
K4P 1E3
Canada
e-mail: kev...@kilohotel.com