Terry and I had a great trip to Yarmouth, NS to visit my folks, brother and sister over the Labour Day long weekend. My sister lives in Yarmouth, but my brother lives NW of Toronto, so it is a rare occasion when we are all in the same place.
We flew down on Friday, stopping in Sherbrooke, Quebec for lunch. We could have done the trip to Yarmouth nonstop, but I was concerned about the high surface winds in the wake of Hurricane Cristobal. It had passed by well south of Nova Scotia, and was currently off the east coast of Newfoundland. It was producing wind gusts well over 20 kt at Yarmouth, and the wind direction was forecast to stay almost exactly between the two runways. The winds at Halifax had gone to over 30 kt. I was concerned about the possibility that the crosswinds when we would arrive might be higher than I was prepared to risk during an aft CG landing. It looked like I might have to divert to northern New Brunswick to find lower winds, so a fuel stop on Sherbrooke ensured that we would have lots of diversion fuel upon arrival in Yarmouth. As it turned out, the winds upon arrival had veered a bit, and while the gusts were still over 20 kt, the wind direction was only 20° left of the runway heading. No problem.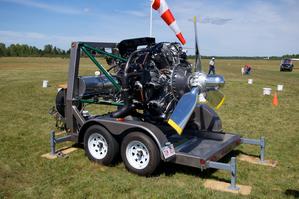 My brother Ron was visiting as well, so I threw him in back on Saturday and we blasted up to Stanley (CCW4), to check out the annual Stanley Fly-In. Multiple RV builder Jerry Wilcox had brought the Wright R2600 engine that he had recently restored. The engine had come from a retired TBM spruce budworm sprayer. Jerry ran the engine for a few minutes in the afternoon to blow dry his hair.
---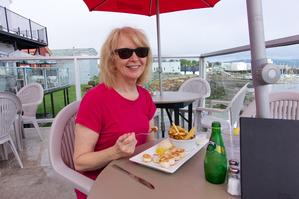 On Sunday I did a couple of short flights with family members.
On Monday Terry and I drove up to Digby, a scenic town on the Bay of Fundy. Terry enjoyed her lunch of Digby scallops.
---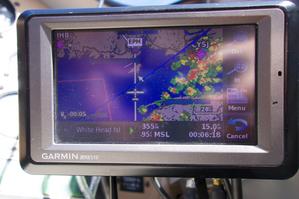 We flew home on Wednesday. The departure was delayed waiting for the fog to start to break. The visibility was 1/8 mile in the early morning, but it finally increased to the 1/2 mile that I needed to legally take-off. We skirted the south end of a long line of convective activity over the Bay of Fundy.
---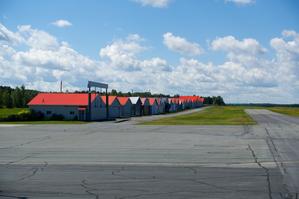 After the fog and thunderstorms, the only challenge left was very strong headwinds, which had the ground speeds down to 125 kt for quite awhile. We could have made it back to Smiths Falls nonstop, but the predicted 3:25 duration was a bit longer than we wanted after the morning coffee. We stopped in St. Georges de Beauce, Quebec, a very nice airport just across the border from Maine. Lots of red roofs on the hangars, cheap gas, and friendly staff.
Terry and I had a wonderful visit. It was great to see everyone again. And the RV–8 is a very efficient way to cover the miles. I've been experimenting with lower cruise RPMs. In the past, I usually used 2450 rpm and full throttle, and usually got around 162 kt at 8.0 to 8.2 USG/hr, running lean of peak EGT. At 2300 rpm and full throttle, I'm seeing 159 to 160 kt, burning 7.2 to 7.5 USG/hr. In automotive terms, that is around 25 mpg at 184 mph. Try that in your car!