Normally Terry accompanies me to the big EAA AirVenture Fly-In at Oshkosh, WI every year, camping with me by the aircraft. This year, however, she needed to spend that week helping a sister, so I had an empty back seat. I offered a ride to Oshkosh to my Dad and brother, but neither could make it. Lee, a coworker with an RV–6, jumped at the chance to go to Oshkosh again - he used to go there every year as a child, as his father was building an aircraft. He went a few more times after growing up, but hadn't been back since 1997.
The scheduled activities at the Fly-In start on Monday morning, but most people arrive on Sunday. Sunday afternoon is extremely busy, with several thousand aircraft landing on three different runways (one of which is really a taxiway, pressed into service as a temporary runway). I'm happier avoiding the rush on Sunday PM, so I normally plan to arrive on Saturday afternoon or Sunday morning.
The master plan this year was to fly to Green Bay, WI on Saturday, spending the night with one of Terry's sisters. We would fly to Oshkosh first thing Sunday morning, following the special arrival procedure, described in the AirVenture NOTAM (Notices to AirMen).
The long range weather forecast for Saturday got worse and worse as the week progressed. It was looking pretty grim for Saturday by Friday morning, with very low clouds around our planned US Customs stop at Sault Ste. Marie, MI, and lots of thunderstorms on the "Plan B" southern route around Chicago. Lee and I both agreed that it made a lot more sense to fly to Green Bay a day early, taking advantage of the nice weather on Friday.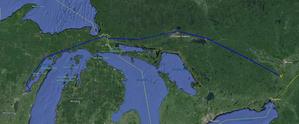 We got airborne around 1030, did a quick Customs and fuel stop at Sanderson Field (KANJ) at Sault Ste. Marie, MI, then ripped down to Green Bay, WI.
---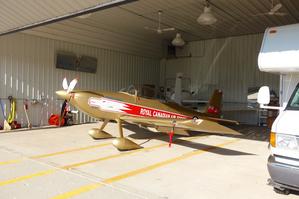 The weather forecast for Green Bay on Saturday suggested there might be some significant thunderstorms. Aircraft tied down outside are hail magnets, and the aluminum skin is easily damaged. I hoped to find hangar space, so I posted a request on the Vans Air Force forums. Green Bay RV–7A owner Gerry C. was very quick to offer the corner of his hangar - thanks Gerry!
---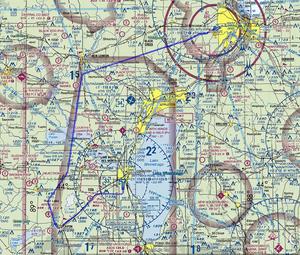 We met Gerry at the airport at 0800 on Sunday, and were airborne by 0830. We went around Appleton's airspace, then headed for Ripon to start the arrival procedure. The procedure is to fly up the railway tracks from Ripon to Fisk, at 1800 ft above sea level (roughly 1000 ft above ground) at 90 kt (about 105 mph or 165 km/h). Approaching Fisk, an air traffic controller on the ground will give instructions on which runway to use. It is one-way communications - your response is to rock the wings. Depending on which runway you are told to use, you follow the route and landing instructions provided in the NOTAM.
---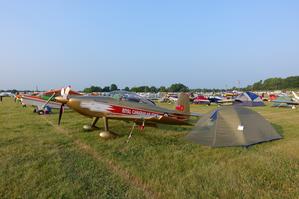 After landing, you turn off the runway onto the grass as soon as possible, to clear the runway for the aircraft that are close behind you. Then you follow the hand signs from a team of ground marshallers who guide you to your parking spot. Then you get the aircraft tied down and set up the tents. We landed about 0900, and were all settled in by 1000.