Terry and I had a great trip to the annual EAA Airventure Fly-In at Oshkosh, WI. Terry flew down a week early, to spend some time with her many sisters. I flew the RV–8 to Manitowoc, WI on Saturday, 27 July to meet up with Terry. We spent the night with a sister in Manitowoc, then loaded up early Sunday morning and flew to Oshkosh, via the very specific arrival procedure.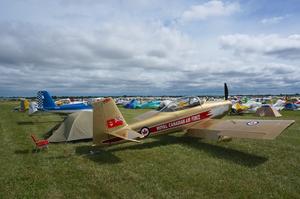 We set up camp next to the aircraft, then went on site the register, have lunch, etc.
---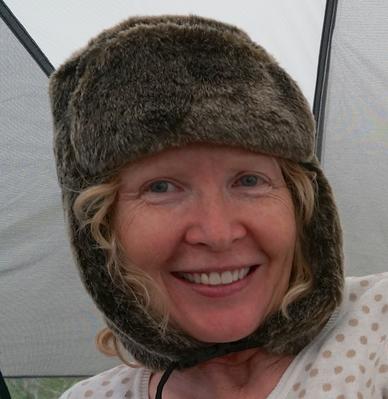 The forecast temperature for overnight was very cool, and I had packed summer-weight sleeping bags as it had been so hot during the nights on every previous Oshkosh camping expedition. Terry was pretty spooked by the predicted cold overnight low temperature, so we walked to every open clothing vendor until we finally found a very warm furry hat with ear flaps for her to wear. That turned out to be a good purchase, as it was quite cool for three of the four nights we were there. That hat and the extra blanket I packed kept her from freezing to death.
---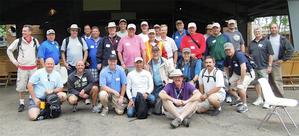 As always, Oshkosh was a great chance to meet many friends that I had made via email and web forum discussions. We had a great gathering of RV–8 and RV–8A builders on Tuesday AM - I was happy to meet builders from many countries, including Luca from Italy and Mickey from Switzerland.
---
We were very happy to find that the EAA had completely overhauled the food vendor contracts, and the new vendors had much more variety with higher quality than offered by the previous regime. We were also happy to learn that they had added a second night airshow. In years past, the only night airshow was very late in the week, on Saturday night, and we had never seen it because we had already left. This year there were night airshows on Wednesday and Saturday nights. There were several formation aerobatic teams, with the aircraft lit up with multiple bright lights, and several solo aircraft that were shooting off fireworks from the wingtips as they did aerobatics - very spectacular!
We packed up and flew back to Manitowoc on Thursday morning to spend two more days with one of Terry's sisters. We were airborne just before 0800 on Sunday morning, and got back to Ottawa just after 1300, after a quick pit stop in Sault Ste. Marie, MI - 3:32 of flying time plus 0:44 for the pit stop. Super way to travel!
I bought a new Bad Elf GPS Pro at Oshkosh. I had been using a Dual XGPS–150, which worked well enough, but it could only send GPS data to one device at a time. The Bad Elf GPS Pro can send GPS data to up to five devices at a time, which allows it to feed ForeFlight on my iPad Mini, my iPod Touch and Terry's iPad all at the same time. Terry enjoyed being able to follow along with the map on her iPad in the back seat.