We are having absolutely fabulous weather in southern Ontario this week. An upper high pressure system is parked over Ottawa, and it isn't moving. Normally, the low and high pressure systems that affect our weather only exist in the lower atmosphere. The wind spins around these systems at low altitude, but once you get above 10,000 ft or so the winds are generally from the west. The westerly winds at medium altitude push the various weather systems from west to east across North America. If you want to get a rough idea of which way the low altitude weather systems are moving, you can normally look at the wind direction at 18,000 ft.
Sometimes you'll see weather systems that stretch up into the upper atmosphere - hurricanes are a good example of that. But, there are many less powerful low and high pressure systems that extend way up too. Today we have an upper high pressure system over Ottawa, and an upper low pressure system over northern Alabama. These systems disrupt the normal weather patterns because the air at mid altitudes spins around in circles around these systems instead of it's normal orderly flow from west to east. These systems generally move very, very slowly, and they block the systems to the west from moving further east. These upper systems will persist for an indefinite period, and then suddenly break up and the normal weather patterns will resume. The weather forecasters have a very difficult time predicting when these upper systems will collapse, so the long range weather forecasts are even less reliable than normal if there are upper high or low pressure systems in play. It could be here for another week, or it could be gone tomorrow. So, we'll enjoy the good weather while it lasts.
Terry went to Toronto on Wednesday afternoon to attend a convention which would finish on Saturday afternoon. Friday afternoon I flew the RV–8 to the airport on Toronto Island (Billy Bishop Toronto City Centre Airport), to have dinner with Terry and stay the night. We had a great meal on Friday night. Saturday afternoon, after the convention wrapped up, I flew her home. Great flights in both directions - 1:02 on the way to Toronto and 1:04 on the way home. Sure beats the five hour drive, or the hassles of airline travel. The airport is on a small island right next to downtown Toronto, and is a perfect way to visit downtown Toronto. The CN Tower is just NE of the airport, so you get a great view of it while arriving and departing.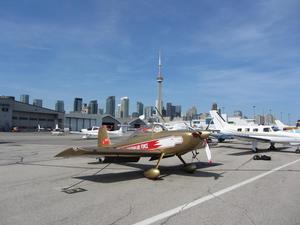 I had reserved a tie-down spot at the Porter FBO. The staff at Porter were very friendly, helpful and efficient.
---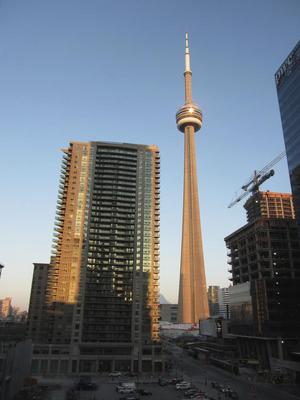 This is the view our room at theHotel Le Germain. The place Terry normally stays when she is at the convention had no rooms available, so we tried the Hotel Le Germain. It is a wonderful hotel, and is highly recommended for a stay in downtown Toronto.
---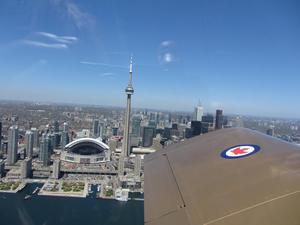 Terry took this shot of theRogers Centreand theCN Towershortly after take-off from runway 08.